THE WORLD'S LARGEST ONLINE EVENT FOR YOUNG LAWYERS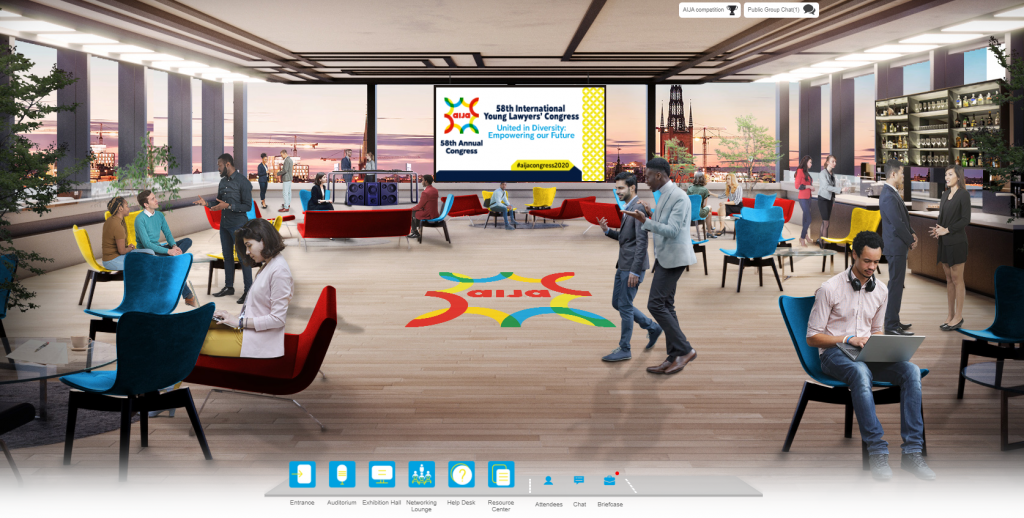 The 58th International Young Lawyers' Congress delivers a full virtual experience. The event offers several themed networking and entertainment opportunities in addition to the networking lounge and exhibition hall where you can connect with fellow attendees and legal providers.
Networking Lounge
In the Networking Lounge you can engage in public or private chats with fellow attendees. You have the option to enter into 1-to-1 conversations or set up group chats to have a wider conversation.
Exhibition Hall
You can also interact directly with exhibitors and sponsors by visiting their booths in the Exhibition Hall. Click request information and one of the booth representatives will be along to respond to your queries.
Virtual speed networking - 24 August, 19:00 - 20:00 CET
The "speed networking" session is the first mingling moment of the congress which provides both a perfect occasion for first-timers to meet other participants and make professional contacts and the chance for regular participants to catch up with their fellow acquaintances and make new AIJA friends.
AIJA's GOT TALENT - 25 August, 19:00 - 20:00 CET
"Hide not your talents, they for use were made. What's a sundial in the shade?" Benjamin Franklin
Following the same model as the famous TV show, contestants will compete against each other for the judges' vote to win the first ever AIJA's Got Talent title and prize!
The competition is open to any individual participant or group of delegates of any age, from any location, and with any form of talent they choose to perform in front of the AIJA community. The programme will be based on the selected pre-registered videos starring our unsuspected guest stars.
You possess some form of talents and want to share your passion and unrevealed skills with an act ranging from singing, dancing, comedy, magic, stunts, variety, and other genres? Sign up here and send us a 30sec to 1 min video of your best act !
YOG'AIJA - 26 August, 19:00 - 20:00 CET
Join our virtual yoga class which will be led by our AIJA member Eva Indruchová who is also a certified yoga teacher.
Relax your body with an evening yoga routine that will help you wind down with intuitive movements to stretch away stored tension. Suitable also for first-timers and beginners. Wear comfortable clothing, prepare your mat and connect! Nothing else is needed, just a good mood and readiness to immerse into yourself.
Virtual home hospitality - 27 August, 19:00 - 20:00 CET
Meeting with our AIJA friends is at the heart of our annual Congress. This is why we've decided to put a virtual spin to our traditional and much-loved evenings of home hospitality. AIJA member volunteers are virtually opening their international homes to guests for an hour-long get-together.
From 20:00 to 21:00 CET, the different groups get together after the home hospitality to exchange their experience. A separate link will be sent for the joint get-together where everyone is invited to join.
NOTE: Make sure you register as a host or a guest when filling in your registration form. You will individually receive by e-mail the name of your host and the other guests, as well as instructions how to connect.
Virtual get-together & drinks - 27 August, 20:00 - 21:00 CET
Following the virtual home hospitality, the groups will get together to exchange their experience and continue the conversation. A separate link will be sent for the joint get-together where everyone is invited to join.